The beauty of entrepreneurship is, of course, that you can build a custom business that suits your strengths, goals, and lifestyle exactly. That's why many people choose dropshipping. With the right products, suppliers, and timing, you can create a modest side hustle, a massive ecommerce empire, or anything in between without having to hold inventory or deal with packing, shipping, and returns. But after making the decision to pursue this ecommerce model, you'll be faced with another crucial decision before you can start to build a successful dropshipping business: Which supplier should you choose?

In the early days of this type of online selling, you would've been on your own to source and contact suppliers who offered the products you wanted. But today, dropshipping is a thriving industry, and plenty of third-party platforms have popped up to help you connect with the right suppliers. Our expert team has gathered five top options, listed in order of the commitment and experience recommended for those interested in trying each one.
Read on for our top picks of the best dropshipping suppliers of 2022, along with tips on which one to choose based on your experience and goals. By the end of this article, we're confident you'll have a handle on which of these dropshipping suppliers is right for you.
5 Best Dropshipping Suppliers in 2022
#1. Sunrise Wholesale
Sunrise Wholesale has been around for almost two decades, and they offer a simple interface borne of this expertise. They have 30,000 products available for dropshipping, which you can browse on their website even before you decide to sign up. They offer listing tools so you can sell these products on Amazon, eBay, Shopify, and BigCommerce, and they have free phone and text support to help you along the way.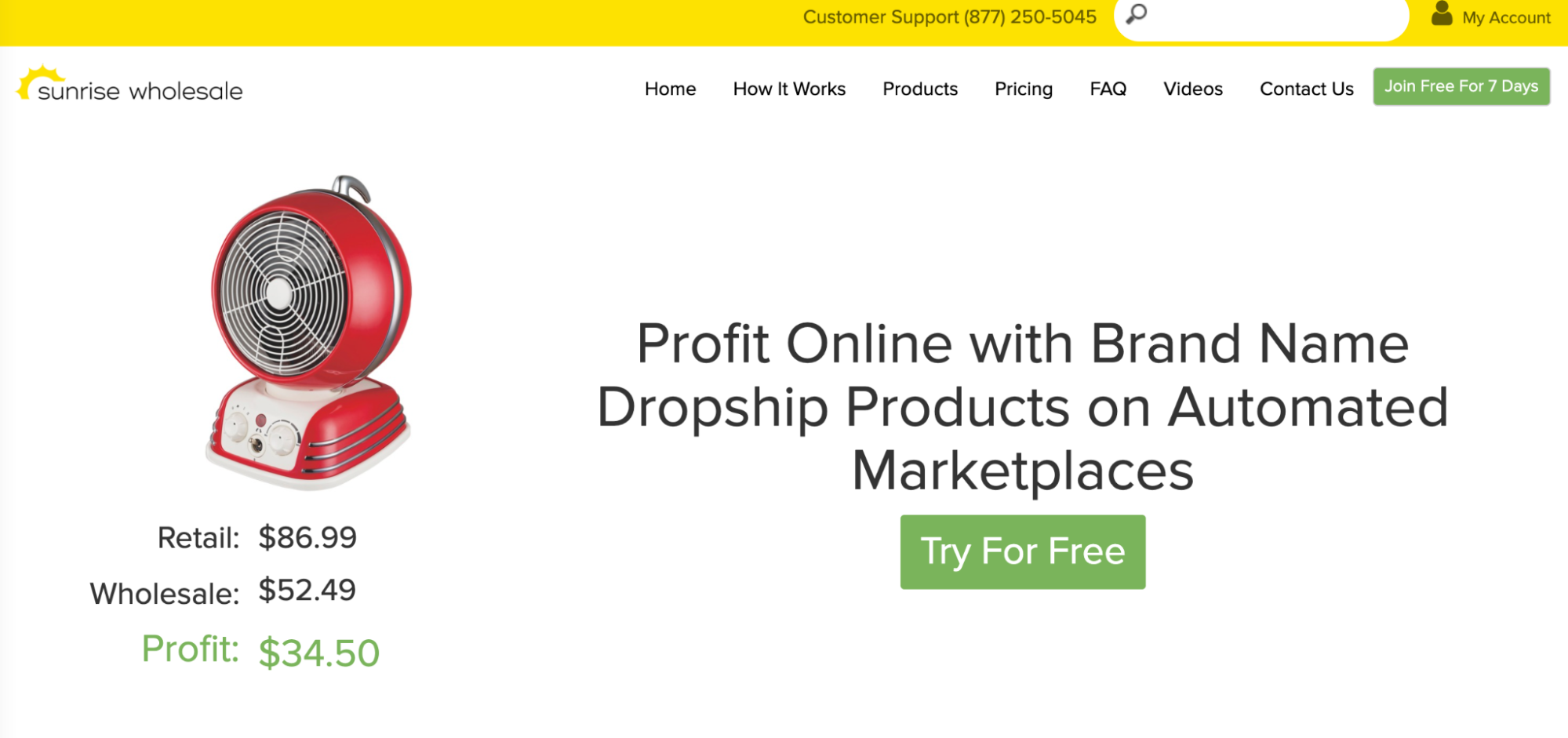 💰 Pricing: Sunrise Wholesale costs $49 per month, with the option of starting with a free 14-day trial. They only offer monthly billing options, which means you can cancel at any time if you decide it's not right for you.
✅ Pros: If you're feeling intimidated or overwhelmed by other platforms, Sunrise is an approachable, straightforward place to start. They only have one pricing plan and a smaller catalog which narrows down your options significantly if you're just looking to dip your toes into the dropshipping world. Another perk: Your customers will receive their items more quickly than they would from other suppliers, because Sunrise manages their own inventory.
❌ Cons: This supplier offers a more limited selection of products than others on this list. They don't offer international shipping either (US only), which may disqualify them as an option if you're planning to have a global reach. Finally, though they offer inventory updates and analytics tools, they're not as in-depth as other solutions. That means they're ideal for beginners, but don't offer some of the advanced functionalities that more seasoned dropshippers might want.
It's a good choice if you're…
not yet sure if dropshipping is for you, and want to test it out with a few basic products in an easy-to-understand, low-commitment interface.
#2. Wholesale2b
With Wholesale2b, you'll have access to over a million products which you can easily add to your integrated ecommerce store. They make it simple for you to automate your dropshipping business so you can focus on growth.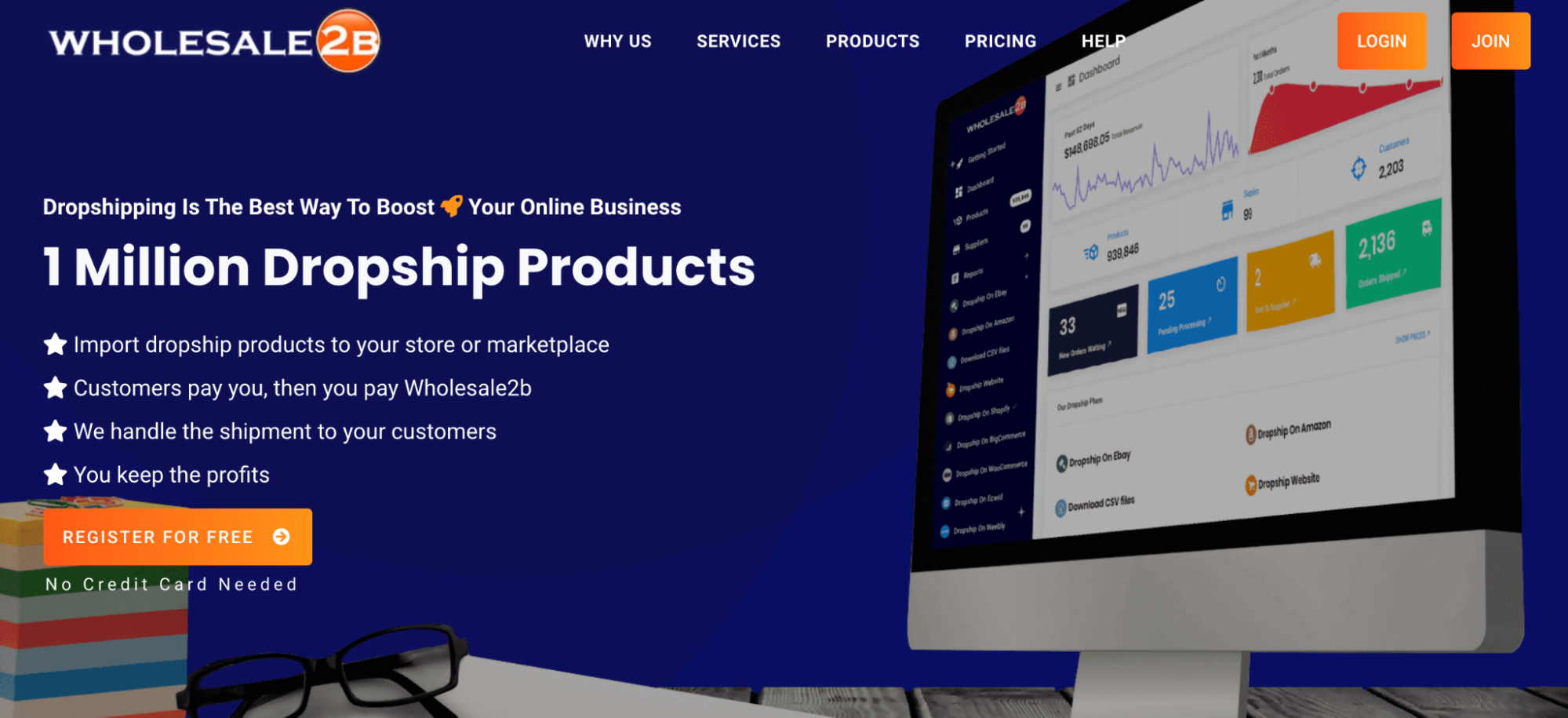 💰 Pricing: Their most basic plan costs $29.99 per month and only works if you have an existing online store (on Shopify, BigCommerce, etc.) to integrate. If you want to list products to marketplaces like Amazon or eBay, the plan costs $37.99 per month. If you want Wholesale2b to create a new store for you from scratch, it's $49.99 per month.
✅ Pros: If you're looking for some extra guidance along the way, Wholesale2b offers great resources for those who are brand-new to dropshipping. You can choose the plan where they create a store for you, and you'll get free access to their dropshipping course when you sign up for any plan.
❌ Cons: Wholesale2b makes it easy for you to build many different types of online stores, but keep in mind that you'll need to pay for each one separately. So if you wanted to sell on your own Shopify store and on Amazon, for example, you'd have to pay for two separate plans. It can add up quickly if you're looking to really diversify your sales across the web.
It's a good choice if you're… new to dropshipping and looking to learn from the experts along the way, so you can build a successful store on just one platform.
#3. Doba
Doba offers a large catalog of vetted dropshipping wholesalers for you to choose from, with over a million products for you to sell. With a few clicks, you can then add these products to your own online store, whether you sell on Amazon, Shopify, eBay, or any number of other platforms. If you want to run multiple stores on multiple platforms, Doba's a great choice because they don't charge extra for each one like some competitors do.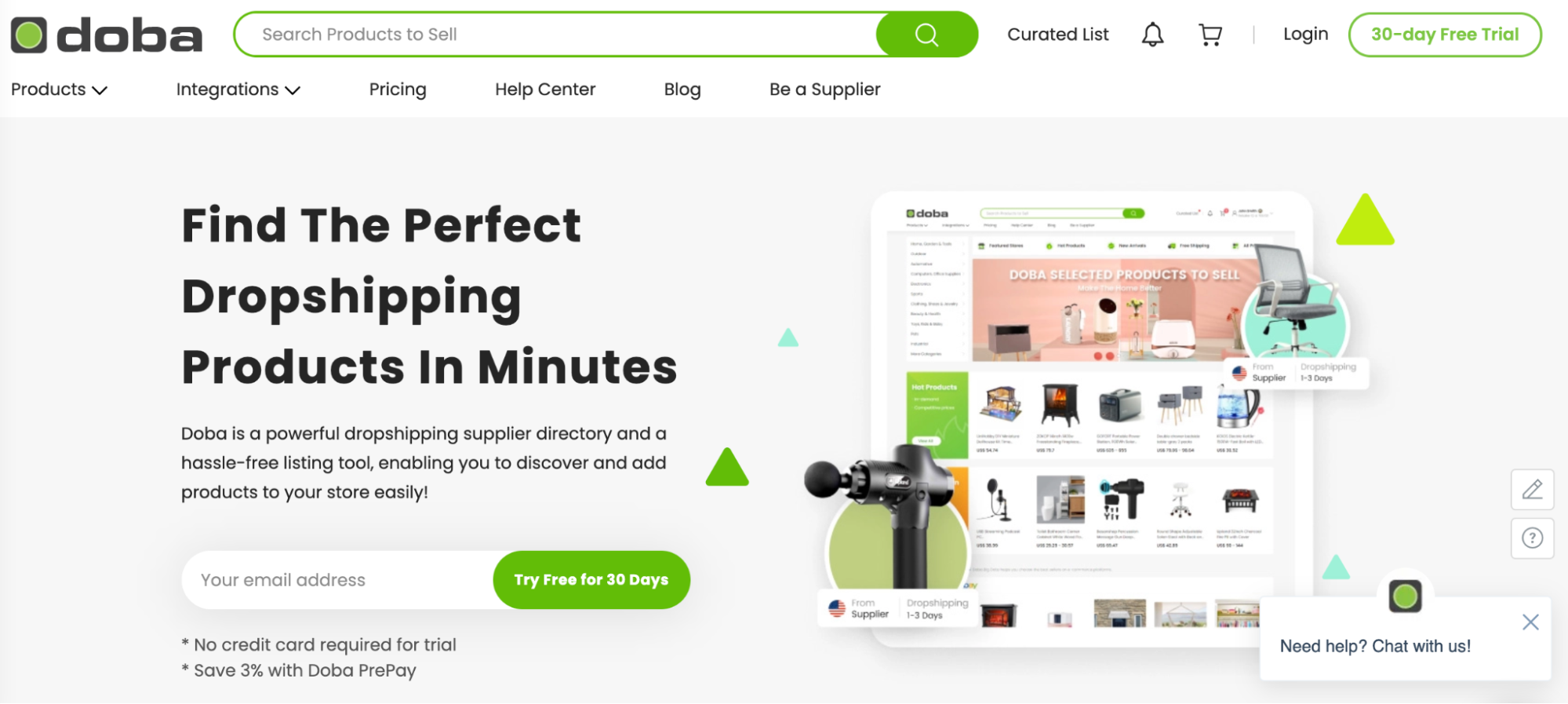 💰 Pricing: You can try Doba for free for 30 days, no credit card required. After that, paid plans start at $29.99 per month if you're paying annually.
✅ Pros: Doba is one of the best dropshipping suppliers for those who are brand-new to dropshipping, because they offer a free, basic plan. That way, you can get familiar with the industry and start building your business without any extra costs at first. They also offer a live chat window on their website so you can get free, professional help along the way.
❌ Cons: Doba provides a platform that manages your sourcing, fulfillment, and integration needs, which lets dropshippers of varying experience levels get started quickly. However, they don't allow you to work with the suppliers directly and their higher-tier plans can get quite expensive. It's a great option for beginners, but if you plan to really scale, you may end up needing to switch providers as you grow.
It's a good choice if you're… just starting out in the world of dropshipping and are looking to build a side-hustle rather than a global empire.
#4. SaleHoo
SaleHoo is one of the largest directories of international buyers and suppliers out there. They offer tools that help you research which products might sell well, and then a massive catalog you can look through to find the right supplier for you. SaleHoo is based in New Zealand, but most of their buyers and suppliers are international.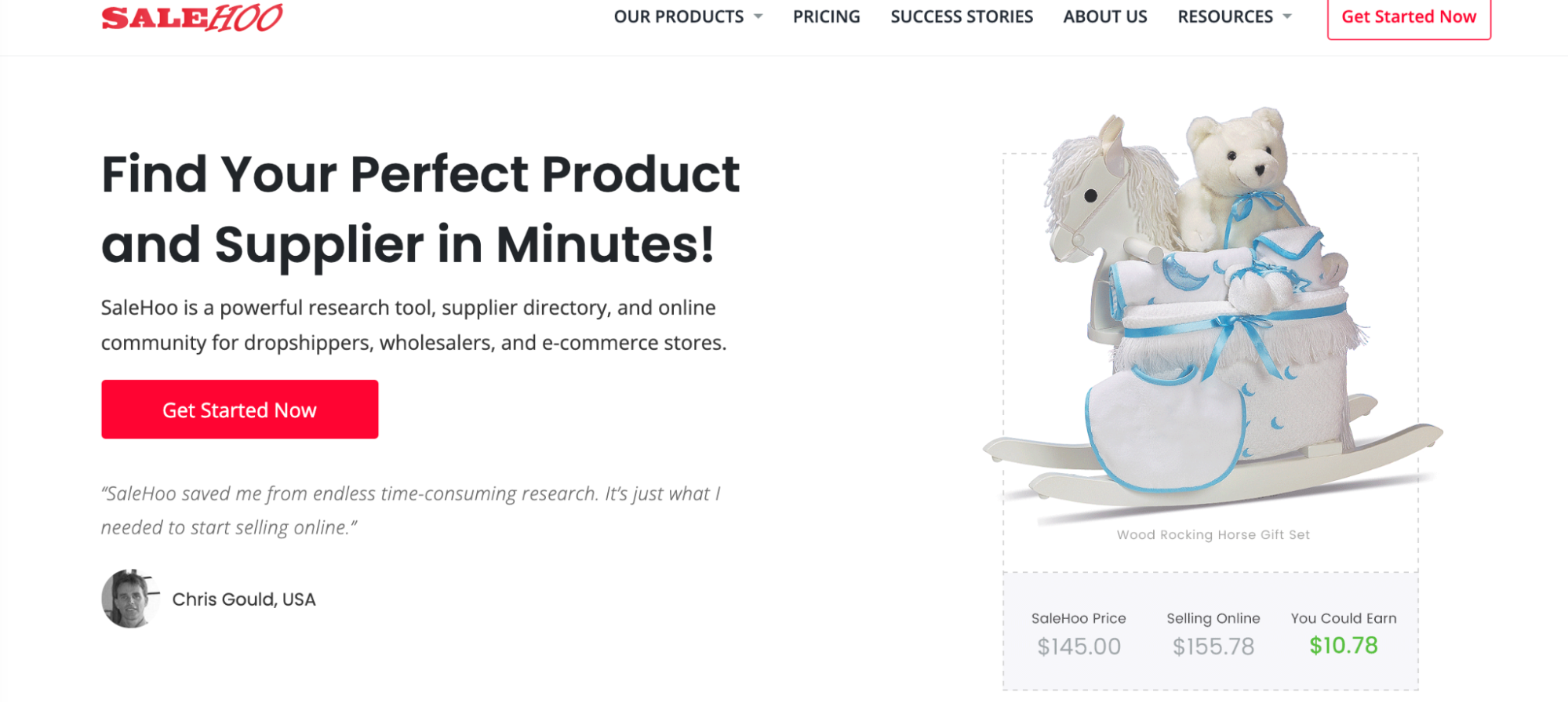 💰 Pricing: Their most basic plan starts at $27 per month for one to two users, or $97 per month for a team. If you just want to access their directory and market research tools, it's $67 per year. Their dropshipping training resources cost $47 per course. All plans come with a 100% satisfaction guarantee.

✅ Pros: SaleHoo is a great resource if you want tools and info that will help you discover the most lucrative products to sell and the suppliers who offer them. SaleHoo also provides extensive support, paid dropshipping lessons for those looking to level up their skills, and community forums where you can connect with other dropshippers to ask questions and share ideas.

❌ ​Cons: They offer a 60-day money-back guarantee but no free trial, so you'll have to sign up for a paid plan to try SaleHoo for yourself.

It's a good choice if you're…

brand-new to dropshipping but ready to commit the time and money to receive access to an expert dropshipping education, a like-minded community, and helpful support as you build your store.

#5. Inventory Source
Inventory Source is software designed for dropship inventory and order management. You can link the software to one of its 230+ dropship suppliers or to one of your own. Then, it allows you to automatically upload products, sync inventory, and route orders with suppliers to virtually any online store, marketplace, or ecommerce platform. If you're looking for a one-stop shop where you can easily manage and even automate large swaths of your dropshipping business, Inventory Source is a smart choice.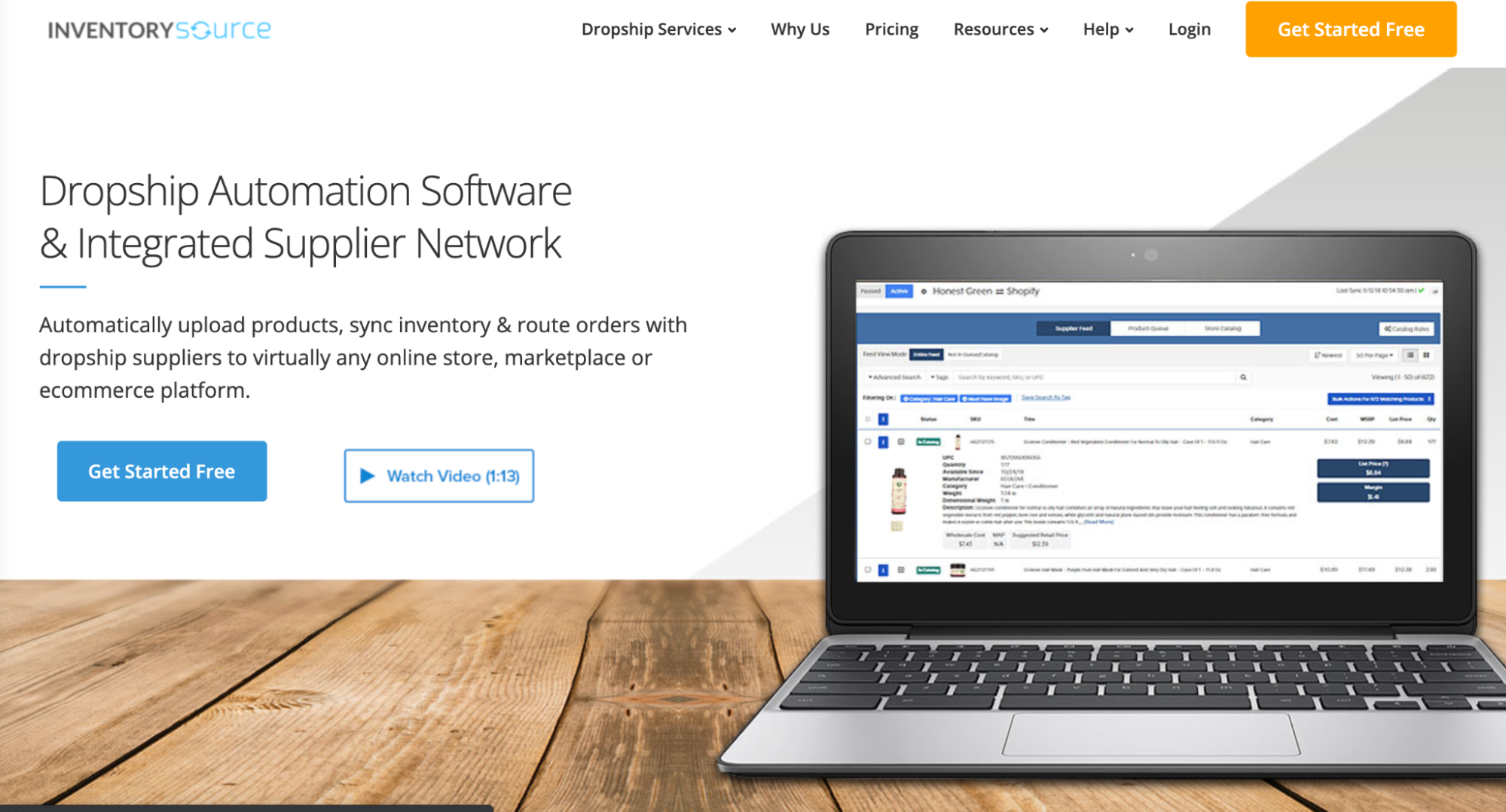 💰 Pricing: You can access their free plan to browse suppliers and preview product feeds. Paid plans start at $99 per month for one integration, with additional integrations costing an extra $75 per month. More expensive plans offer additional integrations and automation tools.

✅ ​Pros: Inventory Source gives you the freedom to choose your own suppliers, which is powerful. Although choosing one of their pre-selected options can help you get your business off the ground at the start, you won't be restricted by that list as you grow. You can eventually expand to doing business with other suppliers over time without having to switch software providers.

❌ Cons: The downside of Inventory Source's large directory of suppliers and products is that their billing structure makes it expensive for users who want to buy from multiple suppliers. Their basic plan ($99/month) only includes one supplier integration, and the plus plan includes two. If you have (or eventually want to have) multiple brands or operate a general store, this might not be the right solution for you.

It's a good choice if you're…

already somewhat familiar with the world of dropshipping, and are serious about massively scaling a niche business where you only sell one type of product.

2022: The year you'll build a successful dropshipping business
With all the dropshipping tools and resources out there today, the barrier to entry for entrepreneurs in this industry is lower than ever. Now that you know how to find dropshipping suppliers that work for you, you can start building your dream business. Cheers to your dropshipping success in 2022 and beyond!